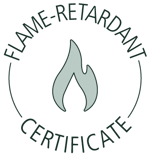 Awarded to
FR Oil System
Downloads
In short
We have developed an oil that works fire-retardant. The oil system is made up of:
An obligatory primer which needs to be applied first: the FR Base
A protective product which also works with molecular binding: FR Oil 2C
The system protects and colours wooden floors, while also providing a fireretardant effect. This makes it a perfect product for public spaces (restaurants, offices, museums, …). The FR Oil System is unique because it is based on our molecularing binding technology, contains no salts and limits the development of smoke.
More information
FR Oil System protects and colours your wooden floors, while also providing a fire-retardant effect. The product is therefore perfect to protect wooden floors in public spaces, such as restaurants, offices, museums, … The system consists of two products: it combines a pre-treatment (fire-retardant FR Base) and a protective finish (FR Oil 2C).

FR Oil System received the Flame-Retardant Certificate from WarringtonFire Gent. It is the first flame-retardant oil system in the world that can present a Bfl-s1 certification on oak (5 mm top layer). FR Oil System also obtained a Cfl-s1 certificate with a 2,5 mm oak top layer.
What makes this fire-retardant system so unique?
Oil, no film forming

FR Oil System is based on our well-known molecular binding technology. This entails that the FR Oil 2C forms a molecular bond with the wood's surface microns. This results in a durable protection without a build-up of layers.
No salts

Research has shown that the content of salts can seriously limit the efficacy of flame-retardant products. In contrast to many flame-retardant systems, FR Oil System does not contain any salts. This increases the durability of the system.
Limiting the development of smoke

One of the focuses during the creation of the FR Oil System was the limitation of smoke development. Statistics have proven that smoke dramatically reduces the chances of saving people caught up in a fire situation. Our system's smoke production achieved an s1 classification for smoke formation. This is a clear indication that our system is also safer in this area.