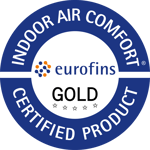 Awarded to
Oil Plus 2C
Downloads
Certificate Indoor Air Comfort Gold_Oil Plus 2C
In short
The label unites the most relevant emission specifications and requirements in Europe in one certification.
It proves that we contribute to a healthy environment.
The Indoor Air Comfort Gold label shows compliance with specifications on VOC emissions set out globally.
We are proud to be the first in the wood treatment sector to receive the certificate.
More information
Rubio Monocoat Oil Plus 2C, the first oil containing 0% volatile organic components
​Rubio Monocoat Oil Plus 2C has been a pioneer when it comes to environmentally friendly products. Three years before the introduction of the first VOC (volatile organic compound) regulations, we decided to set a high bar and go for 0% VOC. The standards that we set for ourselves were stricter than those that have been prescribed in legislation dating back to 2010. This offers proof of our care for the health of both the installer of the oiled floor as well as the end-user who will live in the room.

From 2018 on, we are taking this engagement to the next level by adding the Eurofins Indoor Air Comfort Gold label to our certificates. This label guarantees you, our customer, that our products will continue to meet the high standard you expect of them regarding emissions for years to come.

Eurofins Indoor Air Comfort Gold
Rubio Monocoat is the first in the wood treatment sector to get the Eurofins Indoor Air Comfort Gold label. Eurofins Indoor Air Comfort Gold is a sign of Rubio Monocoat's focus on quality and contribution to a healthy indoor environment. The label combines the most relevant emission specifications and requirements in one certification. The Indoor Air Comfort Gold label shows compliance with specifications on VOC emissions set out globally.

A guarantee that exceeds the product
Eurofins Indoor Air Comfort Gold certification includes more than testing and screening for thousands of chemicals. It includes an internal quality program for processes to ensure that low-emitting products are continuously manufactured. This includes on-site audits, re-testing and certification – together ensuring an extremely high level of reliability in the statement of very low VOC emissions.

The Indoor Air Comfort Gold label, combined with the additional CDPH Section 01350 and M1 odour and ammonia testing, shows global compliance with:
AgBB /ABG
French A+
M1
Belgian VOC Regulation
CDPH Section 01350
EMICODE EC1 PLUS
LEED v4 Worldwide
BREEAM Worldwide
Byggvarubedömningen (BvB) section 6. Emissions to indoor environment
WELL (for the VOC part)
Greenguard compliance based on CDPH Section 01350 test results
ANSES
Floorscore 'friendly' certification for flooring products (positive contribution)